Ultimate Bike Check: Cam McCaul's Trek Remedy
Cam McCaul and I both live in Bend, Oregon, only about 10 minutes from door to door, however with our crazy schedules it means we run into each other outside of the country more often than we do at home. Since we've both got more time on our hands than usual, we decided to do an ULTIMATE bike check. It comes as no surprise that Cam has a plethora of bikes, and we were going back and forth on which one to focus on.
Thankfully the decision was made a bit easier while we were on a recent freeride trip in the desert and Cam didn't even bring his downhill bike. Instead he brought his Remedy, the same one he uses for trail rides around town with his family and friends. His custom set up Remedy can be pedaled all day then throw down buttery smooth backflips on a desert 50-footer. This bike is seriously impressive, and what's equally impressive is that it uses no one-off components. That means you can buy the frame, build it up the same way, and ride the same stuff as Cam. Albeit with 20-odd years of practice.
For any of those who are unaware of Cam McCaul, and let's be real, you're probably living under a mountain bike rock if you don't know the name, he's kind of a big deal. Cam started gaining recognition as a young gun in the Aptos/Santa Cruz, California, dirt jump scene. He was part of the original crew that was pioneering the now famous, and defunct, Post Office jumps. Since becoming somewhat of a wizard on his dirt jumper, he later went on to compete in just about every major event you can think of. From the slopestyle courses of Crankworx and District Ride to the freeride lines of Rampage and the Bearclaw Invitational, Cam has ridden it all. In addition to boasting some damned impressive contest wins, Cam has also been a staple in the mountain bike film industry. He's had parts in some of the greatest New World Disorder flicks, rode with horses in UnReal, and had parts in a couple movies that really were Not Bad. Nowadays you can hear Cam commentating for Red Bull events around the world and working on his YouTube channel.
Keep in mind that I am not a tech editor and am just a mountain bike photographer who likes things with two wheels. Also remember this is Cam we're talking about, who might be the epitome of a go-with-the-flow type of guy. Regardless, we did our best to get down to the nitty-gritty, talk bike details, and find out how Cam sets up his ride to handle anything he can throw at it.
Build Specs:
• Frame: Trek Remedy Carbon – Size 18.5
• Fork: Marzocchi Bomber Z1- 160mm
• Shock: Fox X2 – 150mm
• Handlebars: Bontrager Line Pro 35 – 780mm
• Stem: Bontrager Line Pro 35 – 40mm length, 0 rise
• Brake Levers: Shimano XT M8100
• Brake Calipers: Shimano XT M8120
• Rotors: Shimano XT SM-RT86 – 180mm front and rear
• Cranks: Shimano XT M8100 – 165mm
• Chainring: Shimano XT SM-CRM85 – 34 tooth
• Chain: Shimano XT CN-M8100
• Wheels: Bontrager Line Elite 30 TLR Boost – 27.5″
• Hubs: Bontrager Rapid Drive 108
• Spokes: 28 front/rear nail head 14/15G with Alpina alloy locking nipples
• Tires: Bontrager XR5 Team Issue 2.6 Front , Bontrager SE4 Team Issue 2.4 Rear
• Cassette: Shimano XT M8100 12-speed
• Derailleur: Shimano XT M8100 12-speed
• Shifter: Shimano XT M8100 12-speed
• Dropper: Marzocchi Transfer – 150mm
• Seat: Chromag Overture
• Pedals: Bontrager Line Pro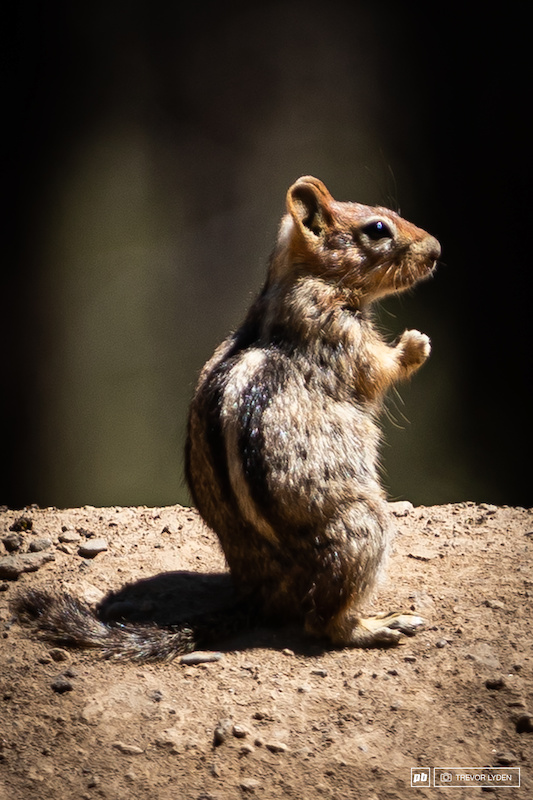 About Cam
Stats:
Age: 34 • Height: 5'10" • Inseam: 32″ • Weight: 160lb • Wingspan: 71.5 inches
Pretty ok at riding bikes, and has been doing it professionally for 18 years. His favorite place to ride is Virgin, Utah. He enjoys playing guitar, spending time with the family, and pioneering the sport of SlopeDuroCross.
Fork: Marzocchi Bomber Z1
• Travel :160mm
• Rake: 51mm
• Rebound: 19 from open
• Compression: See following photo
• Volume Spacers: 2
• Air Pressure: 69psi
• Sag: 20mm or 12.5%
Shock: Fox X2
• Size: 230×57.5mm
• Equivalent frame travel: 150mm
• Air Pressure: 190psi
• Spacers: None (although he says he should)
• Sag:17mm or 30%
• HSR: 11 from open
• LSR: 10 from open
• HSC: 18 from open
• LSC: 12 from open
https://www.pinkbike.com/news/ultimate-bike-check-cam-mccaul.html?trk=rss