Photo Epic: The Eleventh Hour – Red Bull Rampage 2021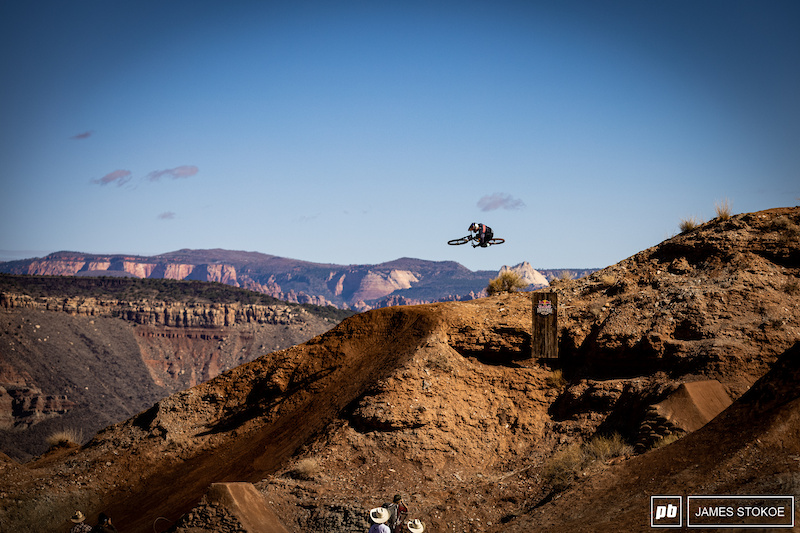 The final day before Rampage is often a frantic one, with builds being finished around the mountain in between practice sessions. Today however, only Brage Vestavik and Reed Boggs seemed to be doing any building, neither of whom competed in Red Bull Rampage in 2016 or 2017 and both of whom had unique lines that didn't overlap with other riders. Everyone else had already put the finishing touches on their lines and had time to get out and ride in a morning session as winds were light for the first part of the day.
The morning started off with some incredible riding. Jaxson Riddle jumped "The Giraffe" on his line, the only section he hadn't hit thus far, while Kyle Strait hit his massive chute, and Brage Vestavik got to put down the tools momentarily to ride the top part of his line above his giant drop. It all seemed too good to be true however, and as the riders worked up to progressively bigger features and tricks, we saw heavy crashes from Carson Storch and Cam Zink. While Zink says he will be able to drop in tomorrow despite a bruised lung, Storch will be missing out on finals after breaking his collarbone.
The afternoon was a quiet one, with most builds done and the winds too strong for riding. As the winds quieted down close to dusk however, the bikes came back out for a last chance session before finals tomorrow. Brage Vestavik went up to attempt his massive drop late in the day, and unfortunately came up just short on the landing. We now have confirmation from Red Bull that Vestavik has had to withdraw from the event due to injuries and we are gutted that we won't get to see him ride the full line that was inspired by the natural lines of the early 2000s in finals. There will be 12 riders dropping tomorrow with Andreu Lacondeguy, Carson Storch, and Brage Vestavik now injured.
Tune in to watch finals tomorrow at redbull.com
https://www.pinkbike.com/news/photo-epic-the-eleventh-hour-red-bull-rampage-2021.html?trk=rss