Photo Epic: Recreating Magic in the Desert – Red Bull Rampage 2021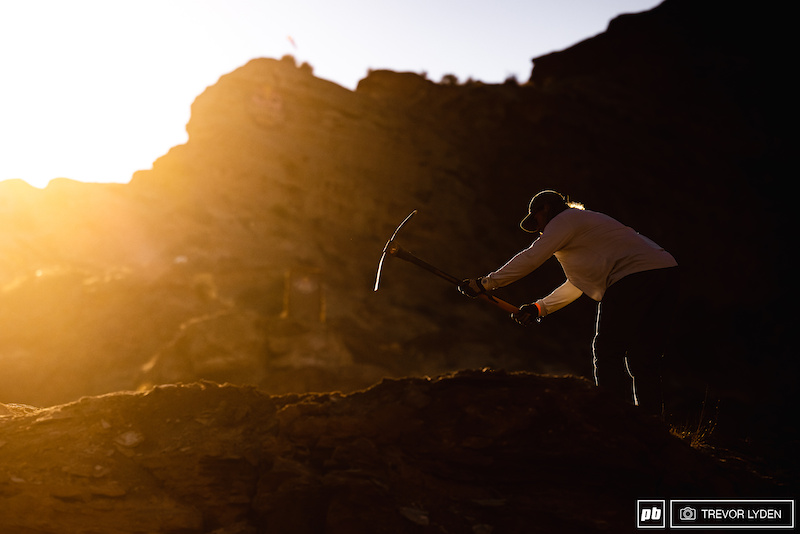 The sun was out and the winds were light as we arrived on site in Virgin, Utah for the 20th anniversary edition of Red Bull Rampage this morning. It's been almost two years since the event took place and while a lot may have happened in that time, the desert has remained largely unchanged and you can still see the remnants of landing pads and crumbling jumps on the red cliffside from the second time this venue was used in 2017.
The 15 riders competing this year and their two-person build teams have been busy the past week and fresh features are popping up every which way you look. With rain earlier in the week, the digging was good and it's impressive to see how far along some of the lines are. There's more rain in the forecast and still three more days left for the riders to sculpt in their lines before finals and so we have high expectations for what we'll see come Friday.
The wind was forecast to pick up later in the day and so riders were on their bikes and testing features first thing in the morning, with Brandon Semenuk and Carson Storch kicking things off near the bottom of the mountain. Kurt Sorge, Tom Van Steenbergen, Jaxson Riddle, and Tyler McCaul eyed up the blind step-down that they're sharing to the rider's right of Semenuk and Storch's line before riding it multiple times, with the tricks coming out as the session progressed. Ethan Nell checked off a drop near the end of his line, while Reed Boggs up on "Reed's Ridge" to the looker's right of the venue hit "The Goblin" before the winds picked up. By midday, anyone who had taken the weather window to get on their bike, set their wheels aside and got back on the tools.
https://www.pinkbike.com/news/photo-epic-recreating-magic-in-the-desert-red-bull-rampage-2021.html?trk=rss