Photo Epic: Finals – Val di Sole DH World Championships 2021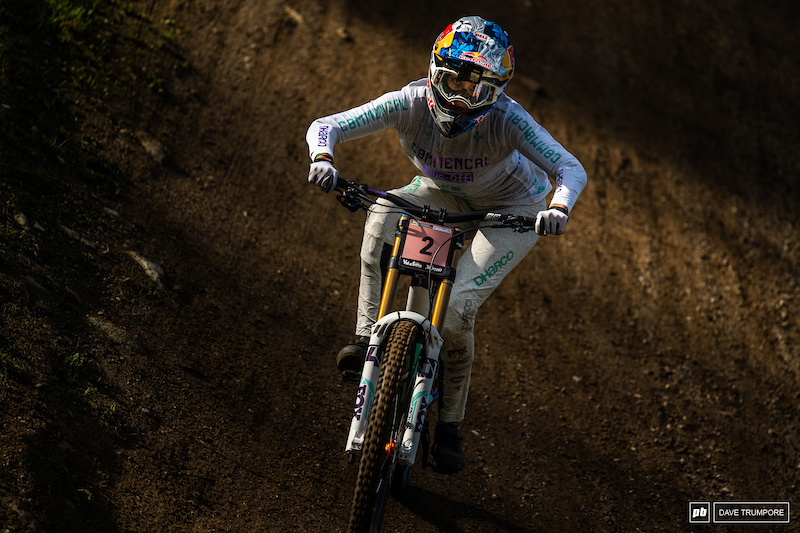 Another year and another World Champs blows by in a blur of rainbow color. 20 years have blown by, incidentally, since the unfathomably accomplished Greg Minnaar claimed his inaugural medal in Vail, Colorado for Worlds 2001. This was a special one; the 11th world championship medal for Greg finally arriving after a 6 year drought and it happened to be not only gold, but on a track where the man has never previously won before. Overnight rain added to the confusion of how best to tame the infamously tricky Black Snake, but it was to be the Pietermaritzburgian puzzle master, 39 years young, who riddled the field a time none could contend with. Frenchman, Benoit Coulanges, was a whisker behind the GOAT and Troy Brosnan did the business for team Aus with a bronze medal.
No less exciting was the women's race; Myriam Nicole bounced back from her year out of the stripes with a vengeance and stormed to a more than convincing 4.8 second victory, welcomed with a shower of congratulatory beer by top qualifier, Vali Höll who crashed out of contention on the greasy course. 2019 Val di Sole winner, Marine Cabirou, fought valiantly after her huge crash earlier in the season in Les Gets to claim silver, while defender of the rainbow jersey, Camille Balanche refused to be forced off the podium. Canadian, Jackson Goldstone, and Bulgarian, Izabela Yankova, earned their stripes in the junior races in true style.
https://www.pinkbike.com/news/photo-epic-finals-val-di-sole-world-championships-2021.html?trk=rss