Photo Epic: A Condensed Session – Red Bull Rampage 2021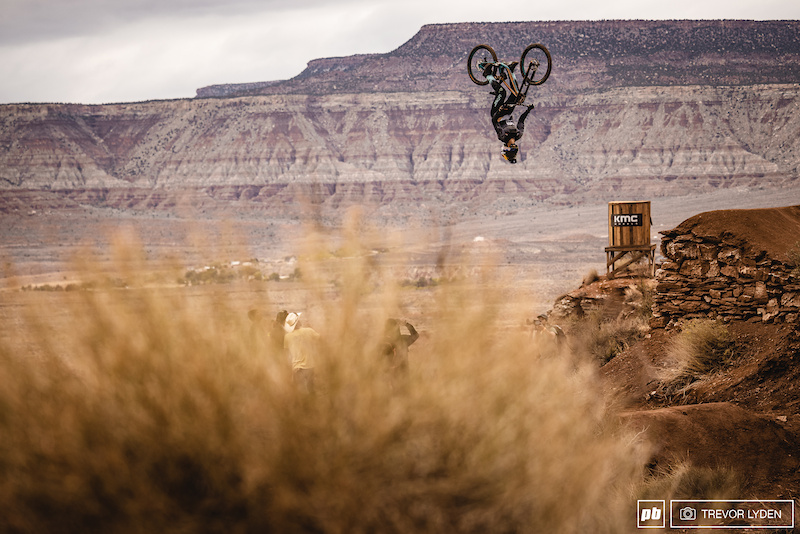 Access to the venue was restricted this morning as we woke up to the pitter patter of rain and high winds. The dirt on the long, narrow shuttle road to the venue becomes slick and sticky when wet and so organizers had no choice but to delay the start of the day until the road dried out. The sun eventually came out mid-morning, but it wasn't until close to 3pm that riders were able to drive into the venue to get to work on their lines. In the distance, fresh snow coated the mountains and the nearby town where Ethan Nell lives was one of the places that received several inches of fresh snow.
Although the day was cut short, we were treated to some mega sessions, and riders fit an impressive amount of riding into a short period of time before the sun set. While Brage Vestavik, Reed Boggs, and Brandon Semenuk took advantage of the moisture in the dirt to spend all afternoon on the tools, many other riders took the opportunity to tick of features on their lines and get comfortable on their bikes as the wind was light.
There's nothing like approaching darkness to put the pressure on, and as the sun moved lower in the sky, we saw some major features ticked off. It was like fireworks going off around the site as Tom Van Steenbergen, Kurt Sorge, Cam Zink, Ethan Nell, and Jaxson Riddle all hit the major drops in their lines within the same hour.
https://www.pinkbike.com/news/photo-epic-a-condensed-session-red-bull-rampage-2021.html?trk=rss