Finals Photo Epic: Palpable Tension – Red Bull Rampage 2021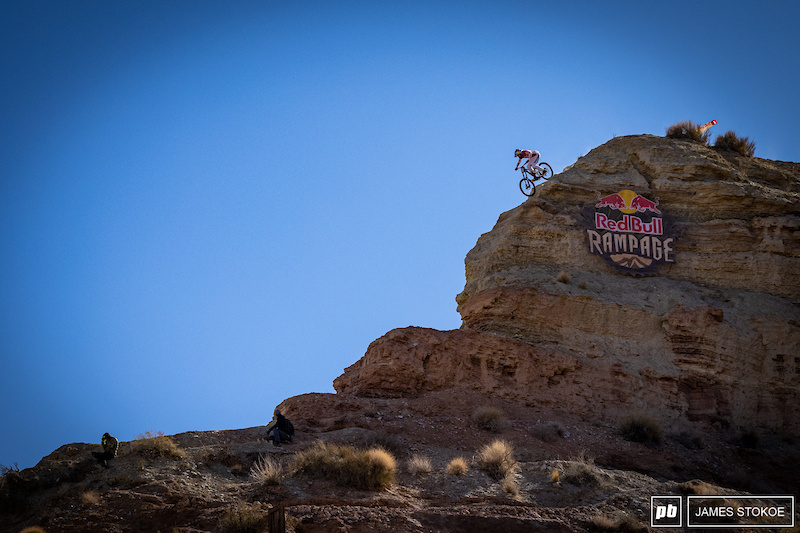 The Rampage site was in the shade and temperatures were chilly as riders took to the mountain for their final practice session this morning. With so much variation in temperature and moisture this week, the last session was an important one, with riders taking the opportunity to dial in speeds and get ready for finals. Kurt Sorge back flipped off his biggest drop in practice, while other riders just got comfortable on their bikes and dialled in their speeds, saving their highest risk tricks for finals.
As spectators milled into the venue, the announcers warmed up, and the helicopter began circling, the nervous energy mounted, as everyone awaited Cam Zink, the first rider to drop. Despite a bruised lung from yesterday's crash, Zink went big on his first run, stomping the back flip on his big drop before a crash shortly before the finish line. It was a theme that carried through the entire first half of the event, with less than half of the 12 riders making it top to bottom without mishap. Tom Van Steenbergen was the one rider that wasn't able to walk away from his crash and was transported off the mountain on a back board. We've since learned of his extensive injuries.
After the first run, the top score was Kyle Strait at 77.33, but we were treated to some unbelievable riding in the seconds runs and his first place spot was soon to be challenged as first Semenuk, then Boggs, then Sorge, then T-Mac all moved ahead of him in the rankings. Semenuk was incredible on his second run, and his score of 89 would end up being the top score of the day, making him the only ever four-time Red Bull Rampage winner as well as the only back-to-back Rampage winner. Sorge improved his score after he flip nac'ed his massive drop and finished second, while Reed Boggs moved into third place after he stomped the 360 on his drop the second time.
https://www.pinkbike.com/news/finals-photo-epic-palpable-tension-red-bull-rampage-2021.html?trk=rss